For hospital managers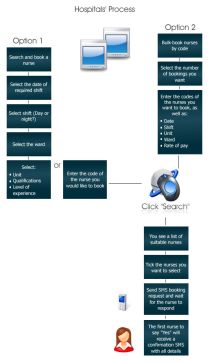 (click to enlarge)
Find nurses more easily, more quickly and more cheaply using Cyber Nurse!
Dealing with nursing agencies to find nurses is a headache. They haven't solved the problem they were designed to solve.
It still takes ages to find nurses (one study we did found it typically takes 4 hours to find a nurse)
You are typically booking nurses directly -- and paying the agency their fee for doing not very much.
You have to use your existing nurses to sit on the phone and find people to work, so that your nurses are now in HR instead of nursing
You don't know if the nurse you get for the night shift has just come off day shift

With Cyber Nurse there are no hidden catches - just many more instant savings to make, and lots more benefits. Arrange for a free demo at no charge and with no obligation. Click here
Look at these great benefits! Cyber Nurse...
Costs nothing to join
Charges less than other agencies
Takes minutes instead of hours
Allows you make one booking or 100 at the click of a mouse, instead of booking a nurse for each shift by phone, one by one.
Allows nurses to take care of patients instead of booking other nurses
Gives the hospital control over high nursing costs
Give the hospital information about staffing trends. For the first time, it's easy to pull a report showing your peak staffing requirements. Now you can make an informed decision about how many nurses you should be employing full-time
You control which nurses work which shifts
Cyber Nurse is fully IRP-30 compliant -- no more sleepless nights worrying about any potential tax implications
Cyber Nurse screens the nurses so you only get qualified staff with up to date SANC registrations
Cyber Nurse will not make a nurse available on two consecutive shifts. If the system booked her to work all day for somebody else, you can't book her for that night.
Look at the problems Cyber Nurse solves:

Problem: you can't find nurses when you need them.
Traditional solution: Take a busy nurse and have her spend four hours on average phoning around to find another nurse to work a specific shift.

The Cyber Nurse solution:
Login to the system
Select a date, a ward and a shift that you need filled.
Pick the nurses you want from the nurses who are available.
Book them.
Total time: 60 seconds.

Problem: Huge monthly invoices from agencies at the end of the month
Traditional solution: There isn't one. You need nurses, you book the nurses, but you don't know how many nurses you needed or booked or how many of those actually worked until you get the bill at the end of the month. You don't even know how much you agreed to pay those nurses.

The Cyber Nurse solution:

1. Cyber Nurse charges up to 30% less than traditional agencies.
2. The system generates reports minute by minute, allowing you to see at a moment's notice:
How many nurses you needed
How many nurses you booked
How much you agreed to pay those nurses
Who booked the nurses
Which wards need the most extra staff
Which nurses arrived for the shift
How much you're spending

No more huge, unexpected monthly bills. You're paying less, and getting more!

Problem: Agency nurses are not as committed as full-time staff
Traditional solution: live with it. What choice do you have?
The Cyber Nurse solution:
All Cyber Nurse nurses come with references.
Cyber Nurse also offers its nurses orientation training for your specific hospital, to make sure the agency nurses know how your hospital works.
This means Cyber Nurse nurses start looking forward to working in your hospital and can slot in seamlessly with your existing team.

Problem: You need four nurses, so you need to book them one at a time.
Traditional solution: There isn't one. You have to take a busy nurse away from nursing and get her to make four bookings. Total time: four to six hours.

The Cyber Nurse solution:
Login to the system and choose "bulk booking"
Select the dates, the wards and shifts that you need filled
Pick the nurses you want from the nurses who are available.
Book them.
Total time: 60 seconds. (Okay, maybe five minutes if you're making 100 bookings)
There are many more instant savings to make, and lots more benefits. Arrange for a free demo at no charge and with no obligation. Click here now